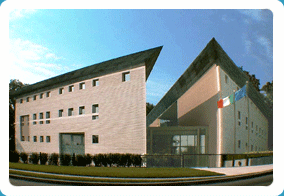 The Embassy of Italy is located on Embassy Row in Washington DC. When you enter our premises, you are on U.S. territory no more. In fact, the grounds are property of the Italian Government and thus Italian territory.
Ambassador Mariangela Zappia is the official representative of the Italian Government in the U.S. and heads the Embassy and the consular network in the country. The Ambassador's Official Residence, known as Villa Firenze, is on Italian territory as well. It is a Tudor style mansion a few miles north of the Embassy.
The Embassy houses the Chancery, which includes the Political Section, the Economic and Scientific Section, the Press and Public Affairs Office, and other sections. It also houses the Office of the Military Attache' and the Italian Cultural Institute.
Every year in May, the Embassy -- along with all European Embassies -- opens its doors to the public to celebrate Europe Day [click here to know more about EU Open House at the Italian Embassy]. All are invited: kids and adults alike to enjoy the best of Italy, including cars, motorcycles, food, art, music, scientific research, new products by Italian companies.
• Click here to learn more about the Embassy's or Villa Firenze's architecture
• Click here to visit the website of the Embassy of Italy in Washington DC